Natural Stone Bathroom Wall Feature Design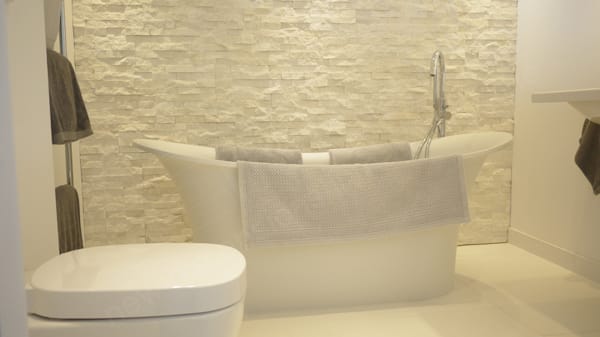 'Industrial chic' might sound like a bit of an oxymoron but natural stone and exposed brickwork is a popular trend in modern interior design, working especially well in master bathrooms, en-suites, shower rooms and wet rooms. Concept Virtual Design's bathroom and shower design service covers the Cookham area as well as the rest of Buckinghamshire, Surrey and Berkshire, offering an amazing new type of natural stone bathroom wall feature to give your bathing space a unique look.
Natural stacked stone feature walls look beautiful behind baths or in shower rooms, providing texture, architectural interest and a classic style to your bathroom. White quartz is a wonderful material for stone feature walls as it has an elegant appearance which reflects light to create a faceted diamond effect – ideal for making your bathroom appear bright and spacious. The uneven surface also brings texture to a feature wall, providing a tactile and multi-layered surface which works wonderfully against both traditional and modern styles of baths and basins.
Our natural stacked stone feature wall suppliers also offer some great designs for other rooms in your home, including classic fireplaces, bedroom feature walls, and even exterior fascias and cladding.  The white quartz design of natural stacked stone panels shown above and below  is extremely versatile and works well on large surface areas in domestic and commercial properties. It's easy to visualise the light-reflective surface behind a roll top bath or as part of a dividing wall in an open plan shower room or spa bathroom.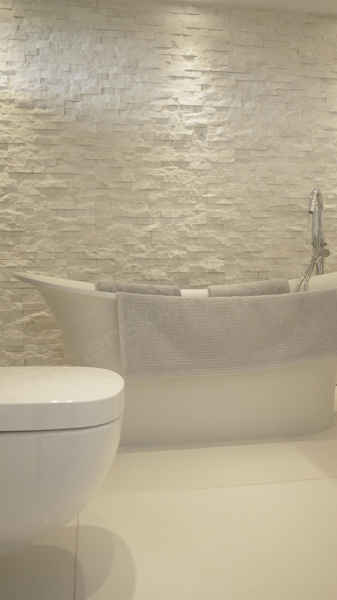 As well as natural stone wall features, we also supply many varieties of tiling in natural stone and other stylish and durable materials to complete your bathroom design, along with high quality fittings and fixtures from luxury manufacturers like GROHE. Our interior design and setting out services are available in the Cookham area and beyond. For help with the bespoke interior design of your bathroom, bedroom or study, get in touch with us at www.conceptvirtualdesign.com and we will work with your vision to create a unique look for your home or development.
Concept Virtual Design have been given a 10/10 best showroom rating by independent reviewers from Kitchens Bedrooms & Bathrooms  Magazine.