New Discreet Wall Drain Design for Wedi Wet Room Shower Trays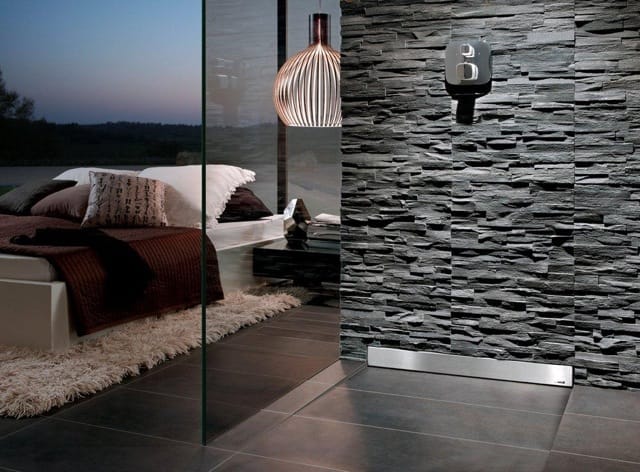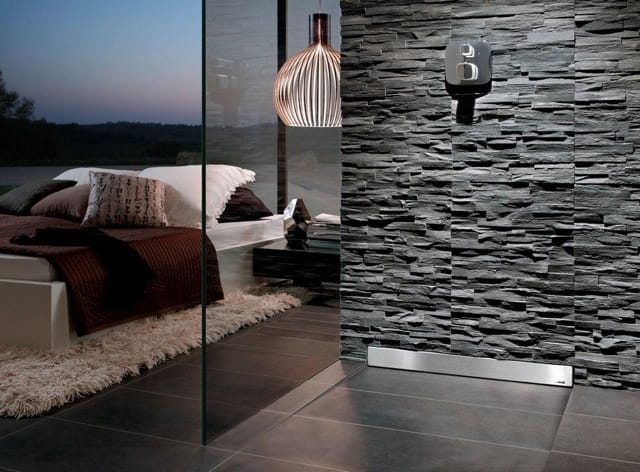 These beautiful new shower tray designs from Wedi revolutionise the look of wet rooms and showers with an innovative wall drainage system that was proclaimed design product of the year.
The Wedi Fundo Riolito Discreto is a specialist floor-level shower tray with a difference -a discreet draining panel means water feeds off from the bottom of the shower wall rather than a central drain, allowing you to choose seamless tiling throughout your wet room or shower.
The Riolito Discreto wet room shower tray brings a new range of designs to the Wedi Fundo collection, with a simple attachment element that can be incorporated into a number of different situations – as a full wall panel, seating or storage area – matching perfectly with other Riolito floor elements.
The simplicity of a wall drainage system means that there need only be one sloping direction for tiling, which allows the use of larger tiles without the need to interrupt your design with cuts or joins. The two-sided stainless steel cover offers further adaptability, enabling you choose between the brushed steel surface or tiling in order to give your shower room or wet room the perfect look. With its unique tilting system, the Riolito Discreto is also very easy to clean, making a potentially unpleasant job quick and painless!
The innovation of the Fundo range is rated highly by trade professionals, architects and customers alike, with durable and aesthetically stunning tileable floor units, and reliable and cost-effective shower elements which help to produce top quality shower rooms, luxury bathrooms and wet rooms.
Choose a Wedi Fundo Riolito Discreto wall-draining shower tray for your bathroom design to create a striking and seamless shower space. Get in touch with us at Concept Virtual Design for more information about Wedi products and for help designing your perfect bathroom, shower room or wet room.