Planning a Luxury Wetroom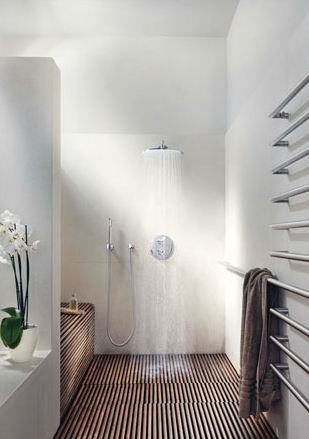 Wetrooms are a wonderful asset to any house, providing a sleek and practical option for en-suites, shower rooms or even as your main bathroom. Stylish and simple, wetrooms offer a calming retreat from busy daily lives and an aesthetically stunning addition to your interior design.
A wetroom is a watertight room, or section of a room, fitted with a shower. Because tiling is applied from floor to ceiling, there is no need for a conventional shower tray, creating a seamless appearance and a sense of extra space. Sometimes wetrooms are placed within their own room (perfect for a smaller en-suite, for example), but often a wetroom is designed to integrate into an open-plan bathroom. This means that the shower area must be separated off using a screen or door – creative design can be utilised to find the ideal placement for this, using existing arches or thresholds between rooms, for example.
The addition of a wetroom, shower room or en-suite to any house adds value to the property, and wetrooms have an air of luxury about them. This juxtaposition of exclusivity and simplicity is what makes a wetroom so aesthetically pleasing; the room itself is often Spartan but the fixtures and tiles make a statement with their quality and design.
It is, of course, essential that your wetroom is watertight and 'tanked' so that it works efficiently and the rest of the room remains unaffected by the water. Tiles or panels can be used to create the walls, ceiling and floor of the wetroom, and the options are extremely varied, allowing you to choose the style, colour and shape that fits with your interior design.
Use Concept Virtual Design's unique setting out service to help you create your perfect wetroom, shower room, steam room or luxury bathroom.