Luxury Bathroom Tiling in Maidenhead and Marlow
Designing a bathroom isn't just about the fixtures and fittings – your tiling will make up a vast majority of the visual impact of your bathroom, shower room or wet room, influencing the sense of space, the atmosphere and the design. It's important to take the time to choose the right tiles for your luxury bathroom – after all, it's not as if you can quickly and easily swap them if you change your mind…
There are several types of tiling to choose from, and an almost endless array of sizes, shapes and colours. The tiles you select will depend on the style of your interior design, your colour scheme, your space and your bathroom fixtures (if you have already decided on them – you may find that you fall in love with a tiling scheme first and the fittings follow). The way you use your tiles can affect the light and sense of space in your bathroom, for example: using reflective tile surfaces helps to bounce light around the room, while long horizontal tiles help to make walls appear wider.
It's important to choose the right sort of tile for your requirements, as different varieties have different properties that may dictate what sort of fixtures you use. Here's a quick guide to the typical range of tiles available:
Ceramic Tiles: Ceramic tiles are composed of clay, water and minerals, and are made by baking in a kiln. This type of tile comes in an enormous range of styles and colours, but can be fragile and porous if unglazed. The right kind of glaze not only affects the final finish and look of the tile, but provides a certain amount of absorption prevention and strengthens the tile against breaking or chipping. Ceramic tiles can range in price, but are usually a cheaper choice over other tiling options.
Porcelain Tiles: Porcelain tiles are longer-lasting and more hard-wearing than ceramic tiles as they are denser. The colouring of a porcelain tile goes all the way through rather than simply being painted onto the surface, so the tones tend to be fuller and richer. This is a benefit if you do end up chipping a tile, as it won't be as noticeable as it would on a ceramic tile. Of course, all these aspects make porcelain tiles a little more expensive, but in terms of quality and longevity, the price is usually worth it.
Mosaic Tiles: Mosaic tiles allow you to create an intricate effect or pattern in a range of colours and styles. Although squares are the most common variety, it is also possible to find mosaic tiles in other shape, including octogons, hexagons, rectangles and triangles. Some mosaic tiles come pre-mounted onto a mesh for ease of application, but this can limits configuration options when you're using several different coloured tiles. Mosaics provide a striking feature in any bathroom, though it's best to use them minimally if you have chosen a bright or bold colour, reserving them for a bath backsplash or shower area.
Marble Tiles: Marble is a traditional and versatile stone that works beautifully for luxury bathroom tiling. Its natural composition means that each tile will have its own variations and unique imperfections which helps to create a one-of-a-kind look. Marble is available in several different tones, and is suitable for other surfaces as well as tiling, for example: a worktop for a basin cabinet or a window seat.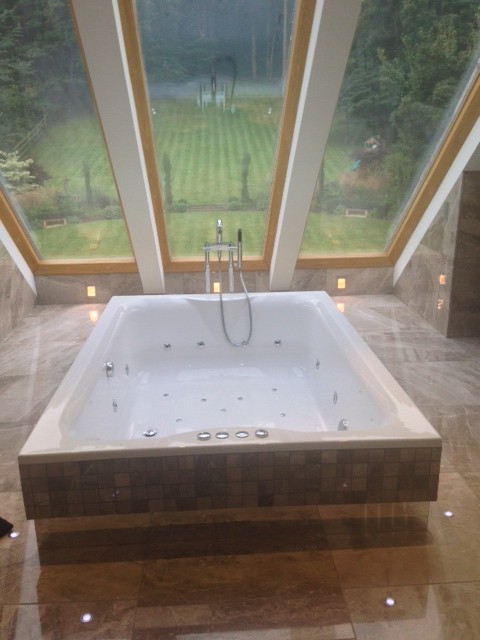 Natural Stone Tiles: Aside from marble, there are a variety of other natural stone tiling options, including granite, slate, travertine, onyx and sandstone. All of these have their own unique appearances and colours, from stunning purple slate to creamy travertine. Granite is a fantastic choice for both bathrooms and kitchens (and is most commonly used for luxury kitchen worktops). Granite bathroom tiles are naturally antibacterial and are not damaged by water, making them perfect for heavy use in a wet room, for example. Sandstone has a grainy surface and feels warmer to the touch than many other tiles, making it ideal for bathroom flooring to give an inviting rustic appeal.
At Concept Virtual Design, every aspect of your luxury bathroom is expertly put together using our comprehensive virtual interior design service. Let us help you find the tiling that is perfect for your project and enjoy your bathroom in total luxury.
Concept Virtual Design have been given a 10/10 best showroom rating by independent reviewers from Kitchens Bedrooms & Bathrooms Magazine.