Creating a Period Style Bathroom
If you love period style, create a beautiful vintage bathroom by combining high quality fixtures with unique pieces of furniture to bring a mix of old and new together in harmony.
Firstly, decide on the type of vintage style you'd like to create – from iconic Art Deco or classic Victorian, there's a wealth of inspiration to be had from years gone by. Do some research into the type of look your favourite era produced and think about which elements you'd like to incorporate into your bathroom. You don't need to be completely authentic or bring period style to every aspect of your bathroom in order to create the look you want – sometimes it's a case of choosing just a few central elements to give a sense of the era you'd like to emulate, for example: a stunning roll-top bath, striking black and white tiling or wallpaper.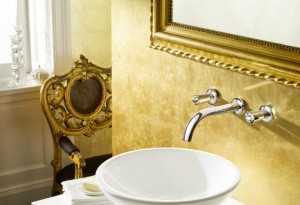 Mixing and matching can have a great effect, bringing together luxurious fittings, interesting antiques, artwork and modern elements to create a truly unique bathroom. If you're going for genuine vintage pieces you may need to be patient in order to find the right piece of furniture for your space, but if you're impatient you can always look for reproductions or modern units that emulate your chosen style.
If you already have period features in your bathroom try to make them the focal point of the room. Fireplaces, alcoves, bare floorboards and original tiles all deserve to be flaunted! You can also find original pieces that bring extra character into your bathroom at antique dealers, reclamation yards and even online – why not add a cast iron radiator, fit wooden shutters to the window, turn an old ladder into a shelving unit or restore a beautiful framed mirror?
The options are endless when it comes to creating a period style bathroom, but if you need a little help designing your perfect luxury vintage bathroom. Let Concept Virtual Design bring your ideas to life with our exclusive interior design service see reviews here.