Beautiful Bespoke Bedrooms, from Top to Bottom
Creating your perfect bespoke bedroom means bringing the entire design together in a cohesive way – incorporating an effective layout with quality furniture and all the little details that make your room unique. Your bedroom should be a tranquil and luxurious place where you can relax at the end of the day, but it's needn't be just for sleeping! Your bedroom can also be your dressing room, a place to read or watch films, or even act as a home-office. To design your ideal bedroom, you need to decide exactly what purpose the room will serve. If you're a developer designing several different types of bedroom, think about the type of buyer you want to appeal to – young professionals, families, people looking for a retirement home – and consider the types of bedroom fixtures and furnishings that would be most useful to them.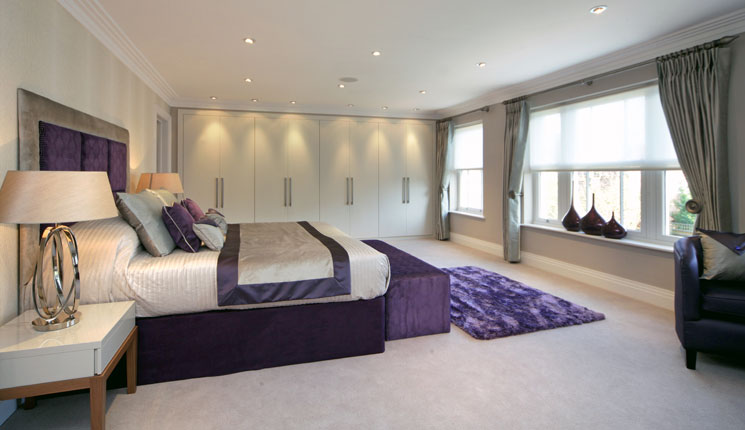 When we work with architects, developers and project managers to design bespoke bedrooms, we look at the whole design as well as its composite parts, from top to bottom. Our A3 colour design and setting out service means that you are able to refer to a detailed plan of the room at every stage of construction and decoration, including individual elements like lighting and electrics, door positioning, and dimensions of bespoke furniture like built-in wardrobes. This allows each trade to work efficiently with each other and reduces the risk of delays or mistakes.
So, what are the elements that make a beautiful bespoke bedroom?
First, it's essential to create the right floor plan. Traffic flow will move move mostly between the bedroom and the bathroom, so you may wish to incorporate an en-suite or wet room into your plans if you have the space. Similarly, walk-in wardrobes or dressing rooms can elevate a bedroom into an exclusive area that makes getting ready each morning a joyful experience.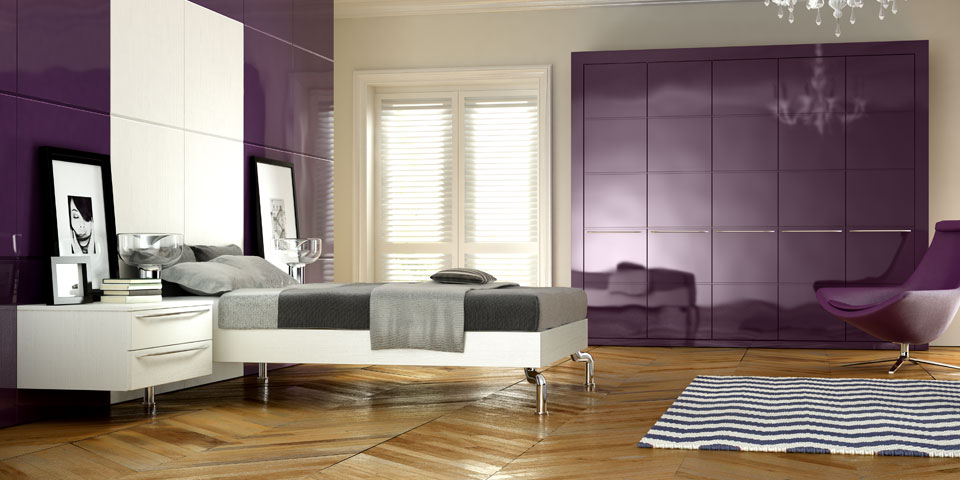 If you have any existing large pieces of furniture that you want to include in your plans, like a bed, storage, shelving, artwork, or seating, make sure you take accurate measurements so that you can make the best decision about positioning each piece.
Try to keep your bedroom design as simple as possible, with enough storage to ensure that the room stays de-cluttered and clear. Bookshelves, under-bed drawers, floor-to-ceiling wardrobes, and storage chests are all options that allow you to keep your bedroom tidy while complementing with your overall aesthetic – choose materials, colours and textiles that suit your design to co-ordinate with other elements in your room.
Define a few choice focal points such as a stunning statement bed or headboard, a beautiful built-in wardrobe or a vintage piece of furniture. Complement these with timeless and stylish design choices like hardwood floors, shuttered windows or a luxurious rug.
Add your own unique style with individual details such as artwork, feature walls, bed linen, cushions, or even by incorporating luxury tiling into your bedroom decoration. As discussed in one of our previous blog posts, interesting tiling can create an amazing look for bedroom walls, and even work as a headboard.
Walk-in wardrobes or bespoke fitted wardrobes are a must in any luxury bedroom, providing you with the space and organisation to store and display your clothes and accessories while keeping in line with your overall bedroom design. The great thing about built-in wardrobes is the ability to pick and choose different storage elements; from rails to drawers to shelves to specially designed shoe racks and tie holders!
And finally, don't forget about lighting. To set different moods in your bedroom, you'll need the ability to choose between a variety of lighting styles: from bright and welcoming to warm and romantic. Discuss lighting options with your interior designer and architect to incorporate fixed lights into your bedroom, and consider additional lamps and lights to be positioned around the room.
For more examples of beautiful bespoke bedroom ideas, get in touch with us at Concept Virtual Design.
Concept Virtual Design have been given a 10/10 best showroom rating by independent reviewers from Kitchens Bedrooms & Bathrooms Magazine.